Education staff training programme training manual on : educational planning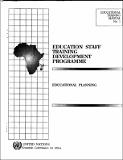 Published
1984-06
Author(s)/Corporate Author (s)
United Nations. Economic Commission for Africa;

Abstract
"Educational Planning is in that amorphous state where there is no agreement even As to its boundaries its perimeter cannot be mapped from theory alone, but has to be paints kindly pegged out in. practice before it can be enshrined in a verbal formula that most people will accept."-' In fact, "educational planning as we know it to-day is still too young and growing too rapidly, and is far too complex and diversified a subject, to be encased in any hard and fast definitions good for all time".-7 This does not mean that educational planning cannot be defined, but rather each specialist in the field of planning tries to choose a definition that best suits his purpose9 his past experience and his prejudices.
Citation
"United Nations. Economic Commission for Africa (1984-06). Education staff training programme training manual on : educational planning. Addis Ababa :. © UN. ECA,. https://hdl.handle.net/10855/13675"
Serial Title
Educational Training Manual No. 1
Related items
Showing items related by title, author, creator and subject.