Enhancing accountability in the management of public enterprises in Africa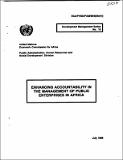 Published
1996-10
Author(s)/Corporate Author (s)
United Nations. Economic Commission for Africa. Public Administration, Human Resources and Social Development Division;
United Nations. Economic Commission for Africa;

Abstract
This study examines how this could be done by enhancing the accountability mechanisms of Africa's public enterprises to market and non-market institutions. The latter include not only the executive units of the government but the totality of governance institutions: the legislature, executive and the rule of law as well as to local community organizations and members of the public as citizens and consumers. The original draft of this paper was written by Professor Bamidele Olowu who was visiting from Obafemi Awolowo University, Me - Ife, Nigeria. It has benefitted from discussions within the Division and also from the comments of two Regional Advisers based in the Division: Drs. M.J. Balogun and Asmelash Beyene.
Citation
"United Nations. Economic Commission for Africa. Public Administration, Human Resources and Social Development Division; United Nations. Economic Commission for Africa (1996-10). Enhancing accountability in the management of public enterprises in Africa. Development Management Series;; No.19; no. 16. No.19; no. 16, III, 41 p.. Addis Ababa :. © UN. ECA,. https://hdl.handle.net/10855/13264"
Serial Title
Development Management Series; No.19 no. 16
Related items
Showing items related by title, author, creator and subject.
Report of the thirty-sixth session of the Intergovernmental Committee of Senior Officials and Experts for North Africa

United Nations. Economic Commission for Africa; United Nations. Economic Commission for Africa. Sub regional office for North Africa; United Nations. Economic Commission for Africa; United Nations. Economic Commission for Africa. Sub regional office for North Africa

"United Nations. Economic Commission for Africa; United Nations. Economic Commission for Africa. Sub regional office for North Africa; United Nations. Economic Commission for Africa; United Nations. Economic Commission for Africa. Sub regional office for North Africa (2021-12). Report of the thirty-sixth session of the Intergovernmental Committee of Senior Officials and Experts for North Africa. UN. ECA Intergovernmental Committee of Senior Officials and Experts for North Africa (36th sessions : 2021, Nov. 24 : Addia Ababa, Ethiopia). Addis Ababa :. © UN. ECA,. https://hdl.handle.net/10855/47917"

Concept note

United Nations. Economic Commission for Africa; United Nations. Economic Commission for Africa. Subregional Office West Africa (SRO-WA); United Nations. Economic Commission for Africa; United Nations. Economic Commission for Africa. Subregional Office West Africa (SRO-WA)

"United Nations. Economic Commission for Africa; United Nations. Economic Commission for Africa. Subregional Office West Africa (SRO-WA); United Nations. Economic Commission for Africa; United Nations. Economic Commission for Africa. Subregional Office West Africa (SRO-WA) (2022-08). Concept note. UN.ECA Intergovernmental Committee of Senior Officials and Experts for North Africa (1st Joint Session: 2022, Nov. 1-3: Marrakech, Morocco); UN.ECA Intergovernmental Committee of Senior Officials and Experts for West Africa (1st Joint Session: 2022, Nov. 1-3: Marrakech, Morocco). Addis Ababa :. © UN. ECA,. https://hdl.handle.net/10855/49128"