Private sector participation in the provision of basic infrastructure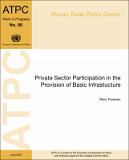 Published
2007-06
Author(s)/Corporate Author (s)
Thoenen, Reto;
United Nations. Economic Commission for Africa;
United Nations Development Programme;
United Nations. Economic Commission for Africa. African Trade Policy Centre;

Abstract
Private sector participation in infrastructure has become more common in the last 15 years or so. Initially, the expansion of private sector involvement was driven by constrained budgets and concerns about efficient service delivery. With the onset of the Asian financial crisis private participation in infrastructure projects dropped for developing countries as a group and only started to recover in 2004. Sub-Sahara Africa was less affected by the drop in investment in infrastructure with private participation than the rest of the developing countries.
Citation
"Thoenen, Reto; United Nations. Economic Commission for Africa; United Nations Development Programme; United Nations. Economic Commission for Africa. African Trade Policy Centre (2007-06). Private sector participation in the provision of basic infrastructure. ATPC work in progress;; no. 66. no. 66, vii, 23 p. :. Addis Ababa :. © UN. ECA,. https://hdl.handle.net/10855/13249"
Serial Title
ATPC work in progress; no. 66
Related items
Showing items related by title, author, creator and subject.
Enregistrement des faits d'état civil en situation de conflit et d'urgence

Nations Unies. Commission Economique pour l'Afrique; Organisation mondiale de la Santé; Commission de l'Union Africaine; Fonds international de secours à l'enfance; Haut-Commissariat des Nations Unies aux droits de l'homme; Fonds des Nations Unies pour la population; Banque africaine de développement; Nations Unies. Commission Economique pour l'Afrique; Organisation mondiale de la Santé; Commission de l'Union Africaine; Fonds international de secours à l'enfance; Haut-Commissariat des Nations Unies aux droits de l'homme; Fonds des Nations Unies pour la population; Banque africaine de développement

"Nations Unies. Commission Economique pour l'Afrique; Organisation mondiale de la Santé; Commission de l'Union Africaine; Fonds international de secours à l'enfance; Haut-Commissariat des Nations Unies aux droits de l'homme; Fonds des Nations Unies pour la population; Banque africaine de développement; Nations Unies. Commission Economique pour l'Afrique; Organisation mondiale de la Santé; Commission de l'Union Africaine; Fonds international de secours à l'enfance; Haut-Commissariat des Nations Unies aux droits de l'homme; Fonds des Nations Unies pour la population; Banque africaine de développement (2017-12). Enregistrement des faits d'état civil en situation de conflit et d'urgence. NU. CEA Conférence des ministres africains chargés de l'enregistrement des faits d'état civil (4ème: 2017, 4-8 déc.: Nouakchott, Mauritanie); NU. CEA Réunion de groupe d'experts (2017, 4-8 déc.: Nouakchott, Mauritanie). Addis Abeba. © NU. CEA. https://hdl.handle.net/10855/24046"

Aperçu de l'évolution récente de la situation économique et sociale en Afrique

United Nations. Economic Commission for Africa. African Institute for Economic Development and Planning(IDEP); Nations Unies. Commission Economique pour l'Afrique; Nations Unies. Conseil Economique et Social; United Nations. Economic Commission for Africa. African Institute for Economic Development and Planning(IDEP); Nations Unies. Commission Economique pour l'Afrique; Nations Unies. Conseil Economique et Social

"United Nations. Economic Commission for Africa. African Institute for Economic Development and Planning(IDEP); Nations Unies. Commission Economique pour l'Afrique; Nations Unies. Conseil Economique et Social; United Nations. Economic Commission for Africa. African Institute for Economic Development and Planning(IDEP); Nations Unies. Commission Economique pour l'Afrique; Nations Unies. Conseil Economique et Social (2018-05). Aperçu de l'évolution récente de la situation économique et sociale en Afrique. NU. CEA Comité d'experts de la Conférence des ministres africains des finances, de la planification et du développement économique (37ème: 11-12 mai, 2018: Addis Abeba, Ethiopie). Addis Abeba:. © NU. CEA,. https://hdl.handle.net/10855/24450"

Framework for a set of e-government core indicators

United Nations Conference on Trade and Development; United Nations. Economic Commission for Africa.; United Nations. Economic Commission for Latin America and the Caribbean; United Nations. Economic and Social Commission for Asia and the Pacific; United Nations. Economic and Social Commission for Western Asia; Statistical Office of the European Union; International Telecommunication Union; Organisation for Economic Co-operation and Development; United Nations Conference on Trade and Development

"United Nations Conference on Trade and Development; United Nations. Economic Commission for Africa.; United Nations. Economic Commission for Latin America and the Caribbean; United Nations. Economic and Social Commission for Asia and the Pacific; United Nations. Economic and Social Commission for Western Asia; Statistical Office of the European Union; International Telecommunication Union; Organisation for Economic Co-operation and Development; United Nations Conference on Trade and Development (2012). Framework for a set of e-government core indicators. Addis Ababa :. © UN. ECA,. https://hdl.handle.net/10855/25669"