Encouraging innovation for productivity growth in Africa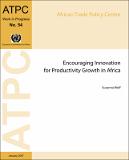 Published
2007-01
Author(s)/Corporate Author (s)
Wolf, Susanna;
United Nations. Economic Commission for Africa;
United Nations. Economic Commission for Africa. African Trade Policy Centre;

Abstract
Innovation is the main driver of economic growth but the capacity to innovate is quite low in most African countries, both in the private and in the public sector. Thus the ability to adopt new technologies and adapt them to local conditions will be crucial first step to increase productivity, which is a precondition for growth and decent employment. The empirical analysis shows that the importance of secondary school enrolment, economic incentives, access to technology through imports, infrastructure and not least a functioning innovation system are likely to increase technological progress that results in labour productivity growth. Each country must develop an innovation strategy based on its specific reality and situation. The private sector should be involved in designing the innovation strategy. For most African countries, improvements in the educational system, the initiation of interactions between the private sector and research institutions, the provision of risk capital for innovative firms and the improvement of infrastructure for quality controls should feature high on the agenda.
Citation
"Wolf, Susanna; United Nations. Economic Commission for Africa; United Nations. Economic Commission for Africa. African Trade Policy Centre (2007-01). Encouraging innovation for productivity growth in Africa. CAPC travail en cours;; no. 54. no. 54, 34 p.. Addis Ababa :. © UN.ECA. https://hdl.handle.net/10855/13242"
Serial Title
CAPC travail en cours; no. 54
Related items
Showing items related by title, author, creator and subject.
Report of the thirty-sixth session of the Intergovernmental Committee of Senior Officials and Experts for North Africa

United Nations. Economic Commission for Africa; United Nations. Economic Commission for Africa. Sub regional office for North Africa; United Nations. Economic Commission for Africa; United Nations. Economic Commission for Africa. Sub regional office for North Africa

"United Nations. Economic Commission for Africa; United Nations. Economic Commission for Africa. Sub regional office for North Africa; United Nations. Economic Commission for Africa; United Nations. Economic Commission for Africa. Sub regional office for North Africa (2021-12). Report of the thirty-sixth session of the Intergovernmental Committee of Senior Officials and Experts for North Africa. UN. ECA Intergovernmental Committee of Senior Officials and Experts for North Africa (36th sessions : 2021, Nov. 24 : Addia Ababa, Ethiopia). Addis Ababa :. © UN. ECA,. https://hdl.handle.net/10855/47917"

Concept note

United Nations. Economic Commission for Africa; United Nations. Economic Commission for Africa. Subregional Office West Africa (SRO-WA); United Nations. Economic Commission for Africa; United Nations. Economic Commission for Africa. Subregional Office West Africa (SRO-WA)

"United Nations. Economic Commission for Africa; United Nations. Economic Commission for Africa. Subregional Office West Africa (SRO-WA); United Nations. Economic Commission for Africa; United Nations. Economic Commission for Africa. Subregional Office West Africa (SRO-WA) (2022-08). Concept note. UN.ECA Intergovernmental Committee of Senior Officials and Experts for North Africa (1st Joint Session: 2022, Nov. 1-3: Marrakech, Morocco); UN.ECA Intergovernmental Committee of Senior Officials and Experts for West Africa (1st Joint Session: 2022, Nov. 1-3: Marrakech, Morocco). Addis Ababa :. © UN. ECA,. https://hdl.handle.net/10855/49128"