Assessing the consequences of the economic partnership agreement on the Ethiopian economy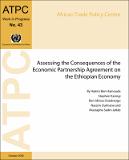 Date
2006-10
Author(s)/Corporate Author (s)
Ben Hammouda, Hakim;
United Nations. Economic Commission for Africa. African Trade Policy Centre;
United Nations. Economic Commission for Africa;
United Nations. Economic Commission for Africa. Trade and Regional Integration Division;

Résumé
The results presented indicate that a free trade area would reinforce the linkages between Ethiopia and European countries, including traditional partners such as Italy, with implications for the regional integration arrangements that Ethiopia is currently involved in. There will be significant trade diversion away from other African countries currently trading with Ethiopia. The diversion will occur in the low technology sectors, which are potentially good foundations for deepened regional integration based on trade in industrial goods. The results further indicate some important implications with respect to Ethiopia's industrialization strategy. The liberalization of industrial sectors result in more trade effects,particularly negative trade diversion, compared to the results from agricultural liberalization. The loss in revenue, which is a strong feature in general liberalization, is at the sectoral level, more pronounced in the industrial liberalization. The economic structure of Ethiopia, which supports self-reliance in food from the agriculture sector, underpins the limited losses in agriculture as compared to the industrial sector. Clearly, instead of opening the doors to economic diversification, the EPA could lead Ethiopia to deepen its comparative advantages in agricultural products.
Citation
"Ben Hammouda, Hakim; United Nations. Economic Commission for Africa. African Trade Policy Centre; United Nations. Economic Commission for Africa; United Nations. Economic Commission for Africa. Trade and Regional Integration Division (2006-10). Assessing the consequences of the economic partnership agreement on the Ethiopian economy. ATPC work in progress;; no. 43. no. 43, 45 p. :. [Addis Ababa] :. © UN.ECA,. https://hdl.handle.net/10855/13237"
Serial Title
ATPC work in progress; no. 43
Related items
Showing items related by title, author, creator and subject.