Diversification : towards a new paradigm for Africa's development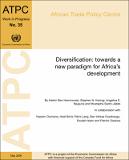 Published
2006-05
Author(s)/Corporate Author (s)
Ben Hammouda, Hakim;
United Nations. Economic Commission for Africa;
United Nations. Economic Commission for Africa. African Trade Policy Centre;

Abstract
Africa's recent development history could be summarized into two big periods. The first occurred in the first years of independence where African countries sought to support political independence by strengthening their economic autonomy. Most countries therefore commenced vast modernization programmes of their economic structures within the framework of import-substitution strategies. These Modernization strategies were not limited to industrial development but also dealt with agricultural development through the desire to reduce dependency on cash products and increase the share of food products. States played an important role in economic and social modernization strategies through public investments in industry, agriculture and infrastructure. However, these investments required a significant recourse to external intervention in different forms, such as external debt, foreign direct investments(FDI) and transfer of technology.
Citation
"Ben Hammouda, Hakim; United Nations. Economic Commission for Africa; United Nations. Economic Commission for Africa. African Trade Policy Centre (2006-05). Diversification : towards a new paradigm for Africa's development. ATPC work in progress;; no.35. no.35, 156 p. :. Addis Ababa :. © UN. ECA,. https://hdl.handle.net/10855/13232"
Serial Title
ATPC work in progress; no.35
Related items
Showing items related by title, author, creator and subject.
Report of the thirty-sixth session of the Intergovernmental Committee of Senior Officials and Experts for North Africa

United Nations. Economic Commission for Africa; United Nations. Economic Commission for Africa. Sub regional office for North Africa; United Nations. Economic Commission for Africa; United Nations. Economic Commission for Africa. Sub regional office for North Africa

"United Nations. Economic Commission for Africa; United Nations. Economic Commission for Africa. Sub regional office for North Africa; United Nations. Economic Commission for Africa; United Nations. Economic Commission for Africa. Sub regional office for North Africa (2021-12). Report of the thirty-sixth session of the Intergovernmental Committee of Senior Officials and Experts for North Africa. UN. ECA Intergovernmental Committee of Senior Officials and Experts for North Africa (36th sessions : 2021, Nov. 24 : Addia Ababa, Ethiopia). Addis Ababa :. © UN. ECA,. https://hdl.handle.net/10855/47917"

Concept note

United Nations. Economic Commission for Africa; United Nations. Economic Commission for Africa. Subregional Office West Africa (SRO-WA); United Nations. Economic Commission for Africa; United Nations. Economic Commission for Africa. Subregional Office West Africa (SRO-WA)

"United Nations. Economic Commission for Africa; United Nations. Economic Commission for Africa. Subregional Office West Africa (SRO-WA); United Nations. Economic Commission for Africa; United Nations. Economic Commission for Africa. Subregional Office West Africa (SRO-WA) (2022-08). Concept note. UN.ECA Intergovernmental Committee of Senior Officials and Experts for North Africa (1st Joint Session: 2022, Nov. 1-3: Marrakech, Morocco); UN.ECA Intergovernmental Committee of Senior Officials and Experts for West Africa (1st Joint Session: 2022, Nov. 1-3: Marrakech, Morocco). Addis Ababa :. © UN. ECA,. https://hdl.handle.net/10855/49128"