Africa in the 1990's and beyond : ECA-Revised long-term development perspectives study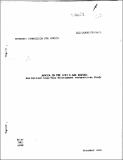 Published
1996-12
Author(s)/Corporate Author (s)
United Nations. Economic Commission for Africa. Socio-economic Research and Planning Division.;

Abstract
In the area of long-term development perspectives, the EGA has so far prepared two regional perspective studies. The first long-term perspective study "ECA and Africa's Development: a preliminary perspective study 1983-2008" was prepared to commemorate the ECA Silver Jubilee and to contemplate on the development path of Africa in ECA Golden Jubilee in the year 2008. The ECA Conference of Ministers recognizing the importance of development perspective has called upon ECA in its resolution 470 (XVIII) to provide technical assistance to governments for the preparation of perspective studies of national economies as well as to update the regional perspective study every five years to serve as a tool for assessing the degree and accelerating the rate of implementation of the Lagos Plan of Action in the African region. With this mandate, the study was revised in 1988 under the title "Bevond Recovery: ECA- revised perspectives—fox Africa's Development 1988-2008" and was presented to the Fourteenth meeting of the ECA Conference of Ministers, Consequently, the study has now been revised for the period 1993- 2008 to investigate the likely achievement of the basic development objectives of the regionally agreed development strategies under the persistent and continued deterioration of the domestic socio-economic structures and the fast changing international global environment as the continent emerges into the 21st Century.
Citation
"United Nations. Economic Commission for Africa. Socio-economic Research and Planning Division. (1996-12). Africa in the 1990's and beyond : ECA-Revised long-term development perspectives study. [Addis Ababa] :. © UN. ECA,. https://hdl.handle.net/10855/13214"
Serial Title
Third series of Africa's Economic Perspectives.
Related items
Showing items related by title, author, creator and subject.
Impact of the economic community of West African States common external tariff and European Union Economic Partnership Agreements

United Nations. Economic Commission for Africa; United Nations. Economic Commission for Africa. Subregional Office West Africa (SRO-WA); United Nations. Economic Commission for Africa. Subregional Office West Africa (SRO-WA); United Nations. Economic Commission for Africa; United Nations. Economic Commission for Africa. Subregional Office West Africa (SRO-WA); United Nations. Economic Commission for Africa. Subregional Office West Africa (SRO-WA)

"United Nations. Economic Commission for Africa; United Nations. Economic Commission for Africa. Subregional Office West Africa (SRO-WA); United Nations. Economic Commission for Africa. Subregional Office West Africa (SRO-WA); United Nations. Economic Commission for Africa; United Nations. Economic Commission for Africa. Subregional Office West Africa (SRO-WA); United Nations. Economic Commission for Africa. Subregional Office West Africa (SRO-WA) (2017). Impact of the economic community of West African States common external tariff and European Union Economic Partnership Agreements. Addis Ababa. © UN.ECA. https://hdl.handle.net/10855/43873"

Information society : regional dimensions Africa, Europe & North America, Latin America & Caribbean, Asia & Pacific, Western Asia.

United Nations. Economic Commission for Africa.; United Nations. Economic Commission for Latin America and the Caribbean; United Nations. Economic Commission for Latin America and the Caribbean; United Nations. Economic and Social Commission for Asia and the Pacific; United Nations. Economic and Social Commission for Western Asia

"United Nations. Economic Commission for Africa.; United Nations. Economic Commission for Latin America and the Caribbean; United Nations. Economic Commission for Latin America and the Caribbean; United Nations. Economic and Social Commission for Asia and the Pacific; United Nations. Economic and Social Commission for Western Asia (2003). Information society : regional dimensions Africa, Europe & North America, Latin America & Caribbean, Asia & Pacific, Western Asia.. World Summit on the Information Society (1st : 2003 : Geneva, Switzerland). Geneva :. © UN.ECA. https://hdl.handle.net/10855/41101"

Framework for a set of e-government core indicators

United Nations. Economic Commission for Africa.; United Nations. Economic Commission for Latin America and the Caribbean; United Nations. Economic and Social Commission for Asia and the Pacific; United Nations. Economic and Social Commission for Western Asia; Statistical Office of the European Union; International Telecommunication Union; Organisation for Economic Co-operation and Development; United Nations Conference on Trade and Development

"United Nations. Economic Commission for Africa.; United Nations. Economic Commission for Latin America and the Caribbean; United Nations. Economic and Social Commission for Asia and the Pacific; United Nations. Economic and Social Commission for Western Asia; Statistical Office of the European Union; International Telecommunication Union; Organisation for Economic Co-operation and Development; United Nations Conference on Trade and Development (2012). Framework for a set of e-government core indicators. Addis Ababa :. © UN. ECA,. https://hdl.handle.net/10855/25669"