Report of the advisory committee on staff recruitment and training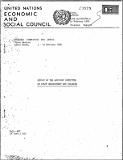 Published
1969-02
Author(s)/Corporate Author (s)
United Nations. Economic and Social Council;
United Nations. Economic Commission for Africa;

Abstract
The United Nations Economic Commission for Africa adopted at the eighth session resolution 184 (VIIl) on the equitable distribution and Africanization of posts in ECA and established an advisory Committee on Staff Recruitment and. Training, comprising representatives from the following, seven Member States: Cameroon, Chad, Dahomey, Morocco, Nigeria, the United Arab Republic, and Zambia, In operative paragraph 2 of the resolution, the Commission requested the Executive Secretary-to implement their resolution forthwith and to convene the first meeting of the Committee.
Citation
"United Nations. Economic and Social Council; United Nations. Economic Commission for Africa (1969-02). Report of the advisory committee on staff recruitment and training. UN.ECA (1969, Feb. 3 - 4 : Addis Ababa, Ethiopia).. Addis Ababa :. © UN. ECA,. https://hdl.handle.net/10855/12708"
Conference
UN.ECA (1969, Feb. 3 - 4 : Addis Ababa, Ethiopia).
Related items
Showing items related by title, author, creator and subject.