A reconnaissance of education, training, manpower resources, and manpower needs for the mineral industry and geosciences in fifteen African countries : June - September 1967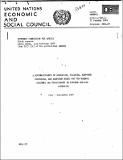 Published
1969-01
Author(s)/Corporate Author (s)
United Nations. Economic and Social Council;
United Nations. Economic Commission for Africa;

Abstract
In 1967 ECA, assisted by the United States agency for International Development, and UNESCO jointly sponsored a survey of manpower requirements in Africa in the earth science and mining, including a survey of existing facilities in the continent for training required personnel up to professional standards. The survey was made in the middle of that year, and though originally intended to cover the whole area occupied by ECA member states, the difficult conditions prevailing at that time made it possible for the mission to visit only fifteen countries, Although needs and available facilities varied in each of these countries, the survey revealed uniformly a great existing scarcity of professionally trained African geologists, mining engineers and other technical persons required for the development of African mineral resources.
Citation
"United Nations. Economic and Social Council; United Nations. Economic Commission for Africa (1969-01). A reconnaissance of education, training, manpower resources, and manpower needs for the mineral industry and geosciences in fifteen African countries : June - September 1967. UN. ECA (9th Session : 1969, Feb. 3- 14 : Addis Ababa, Ethiopia).. Addis Ababa :. © UN. ECA,. https://hdl.handle.net/10855/12703"
Conference
UN. ECA (9th Session : 1969, Feb. 3- 14 : Addis Ababa, Ethiopia).
Related items
Showing items related by title, author, creator and subject.