Science and technology for Africa's development .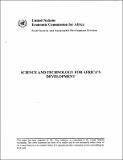 Published
2000-08
Author(s)/Corporate Author (s)
United Nations. Economic and Social Council;
United Nations. Economic Commission for Africa. Food Security and Sustainable Development Division;

Abstract
Today there is little controversy regarding the contribution of science and technology to development. The following statement from the World Development Report 1998/99 illustrates this. However, there is a different body of researchers, which does not accept this marginalist approach on several grounds. First, they argue that structural change is central to economic transformation, and that marginalist tools are inappropriate for measuring quantum leaps in technology and outputs. Secondly, technological change is a long - term process. The instantaneous changes that are assumed in marginalist approaches do not reflect reality. Thirdly, technological change is, empirically, not a neutral phenomenon. It is neither costless nor fortuitous.
Conference
Meeting of the Advisory Board on Science and Technology. (3rd : 2000: Addis Ababa).
Related items
Showing items related by title, author, creator and subject.