Report on a workshop for mayor, chairmen, chief executives and their deputies, local government authorities, Republic of Malawi on decentralization for economic recovery and development Zomba (Malawi)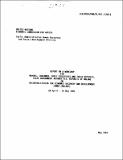 Published
1991-05
Author(s)/Corporate Author (s)
United Nations. Economic and Social Council;
United Nations. Economic Commission for Africa;

Abstract
The aims of the workshop were, among other things to (a) help the participants to re-examine their role and consider ways to strengthen it in the light of the growing population and its multitudinous demands, the fast changing socio-economic environment and the diminishing resources required for sustainable development; (b) remind the participants of their responsibilities as representatives and servants of the local people in urban and rural Malawi; and (c) strengthen the relationship between the elected and appointed officials in order to encourage team spirit for the benefit of the people and the development or the nation.
Citation
"United Nations. Economic and Social Council; United Nations. Economic Commission for Africa (1991-05). Report on a workshop for mayor, chairmen, chief executives and their deputies, local government authorities, Republic of Malawi on decentralization for economic recovery and development Zomba (Malawi). UN. ECA Public Finance (1991, Apr.1 - 12 : Lusaka, Zambia). Addis Ababa :. © UN. ECA,. https://hdl.handle.net/10855/12452"
Conference
UN. ECA Public Finance (1991, Apr.1 - 12 : Lusaka, Zambia)
Related items
Showing items related by title, author, creator and subject.
Report of mission to Kampala 7 February-13 February 2005

United Nations. Economic and Social Council; United Nations. Economic Commission for Africa. African Centre for Gender and Development; United Nations. Economic and Social Council; United Nations. Economic Commission for Africa. African Centre for Gender and Development; United Nations. Economic Commission for Africa.

"Tadria, Hilda; United Nations. Economic and Social Council; United Nations. Economic Commission for Africa. African Centre for Gender and Development; United Nations. Economic and Social Council; United Nations. Economic Commission for Africa. African Centre for Gender and Development; United Nations. Economic Commission for Africa. (2005). Report of mission to Kampala 7 February-13 February 2005. Addis Ababa:. © UN. ECA,. https://hdl.handle.net/10855/41484"

Framework for a set of e-government core indicators

United Nations Conference on Trade and Development; United Nations. Economic Commission for Africa.; United Nations. Economic Commission for Latin America and the Caribbean; United Nations. Economic and Social Commission for Asia and the Pacific; United Nations. Economic and Social Commission for Western Asia; Statistical Office of the European Union; International Telecommunication Union; Organisation for Economic Co-operation and Development; United Nations Conference on Trade and Development

"United Nations Conference on Trade and Development; United Nations. Economic Commission for Africa.; United Nations. Economic Commission for Latin America and the Caribbean; United Nations. Economic and Social Commission for Asia and the Pacific; United Nations. Economic and Social Commission for Western Asia; Statistical Office of the European Union; International Telecommunication Union; Organisation for Economic Co-operation and Development; United Nations Conference on Trade and Development (2012). Framework for a set of e-government core indicators. Addis Ababa :. © UN. ECA,. https://hdl.handle.net/10855/25669"

Report of the meeting of the committee on women and development: expert session

United Nations. Economic and Social Council; United Nations. Economic Commission for Africa. African Centre for Gender and Development; United Nations. Economic Commission for Africa. African Centre for Gender and Development; United Nations. Economic and Social Council; United Nations. Economic Commission for Africa.

"United Nations. Economic and Social Council; United Nations. Economic Commission for Africa. African Centre for Gender and Development; United Nations. Economic Commission for Africa. African Centre for Gender and Development; United Nations. Economic and Social Council; United Nations. Economic Commission for Africa. (2005-10). Report of the meeting of the committee on women and development: expert session. UN. ECA Committee on Women and Development Meeting(2005, Oct. 13-14 :Dakar, Senegal). Addis Ababa :. © UN. ECA,. https://hdl.handle.net/10855/25697"