No need to reinvent the wheel : achieving aid for trade through the almaty programme of action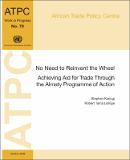 Published
2008-10
Author(s)/Corporate Author (s)
Karingi, Stephen N.;
Lisinge, Robert T.;
United Nations. Economic Commission for Africa;
United Nations Development Programme;
United Nations. Economic Commission for Africa. African Trade Policy Centre;

Abstract
Many developing countries face supply-side constraints that severely limit their ability to benefit from the multilateral trading system. The situation of landlocked developing countries is of particular concern. Lack of territorial access to the sea, aggravated by remoteness from world markets, and prohibitive transit costs and risks impose serious constraints on export earnings, private capital inflow and domestic resource mobilisation of these countries and therefore adversely affect their overall growth and socioeconomic development. That is why in the United Nations Millennium Declaration, heads of State and Governments, recoginsed the particular needs and problems of landlocked developing countries, and urged both bilateral and multilateral donors to increase financial and technical assistance to this group of countries in order to meet their particular development needs and to help them to overcome the impediments of geography by improving their transit transport systems.
Citation
"Karingi, Stephen N.; Lisinge, Robert T.; United Nations. Economic Commission for Africa; United Nations Development Programme; United Nations. Economic Commission for Africa. African Trade Policy Centre (2008-10). No need to reinvent the wheel : achieving aid for trade through the almaty programme of action. ATPC work in progress;; no. 70. no. 70, iii, 30 p.. Addis Ababa :. © UN. ECA,. https://hdl.handle.net/10855/12181"
Serial Title
ATPC work in progress; no. 70
Related items
Showing items related by title, author, creator and subject.