Lessons to be drawn from five years of planning in French speaking African countries South of the Sahara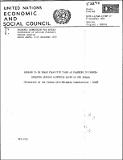 Published
1967-12
Author(s)/Corporate Author (s)
United Nations. Economic and Social Council;
United Nations. Economic Commission for Africa;

Abstract
With regard to the second pointy the numerous difficulties encountered in implementing the operations envisaged have shown that there are severe limitations on the absorption of foreign capital by an economy. Foreign government- aid passes through a country and leaves pt in various forms without taking, full effect, unless there is local, initiative to make it bear fruit. 0nce roads have been constructed, or hospitals built, the funds, devoted to such work are transformed into income of workers or enterprises. If such income is not used locally, it leaves the country in the form of imports of consumer goods or transfers of savings, and it will later be necessary to levy the necessary resources for the maintenance of the roads or the operation of the hospitals from a population that has not become any wealthier in the meantime. Admittedly, foreign government or private financing also makes it possible to carry out operations that are directly productive but these are of genuine benefit to the country concerned only to the extent that they induce participation by the national transactors - suppliers or employees - which precisely Supposes a linkage 'between domestic efforts and external contributions.
Citation
"United Nations. Economic and Social Council; United Nations. Economic Commission for Africa (1967-12). Lessons to be drawn from five years of planning in French speaking African countries South of the Sahara. UN. ECA Conference of African Planners (2nd session : 1967 Dec. 4 - 15 Addis Ababa, Ethiopia). Addis Ababa :. © UN. ECA,. http://hdl.handle.net/10855/11900"
Conference
UN. ECA Conference of African Planners (2nd session : 1967 Dec. 4 - 15 Addis Ababa, Ethiopia)
Related items
Showing items related by title, author, creator and subject.
Information society : regional dimensions Africa, Europe & North America, Latin America & Caribbean, Asia & Pacific, Western Asia.

United Nations. Economic Commission for Africa.; United Nations. Economic Commission for Latin America and the Caribbean; United Nations. Economic Commission for Latin America and the Caribbean; United Nations. Economic and Social Commission for Asia and the Pacific; United Nations. Economic and Social Commission for Western Asia

"United Nations. Economic Commission for Africa.; United Nations. Economic Commission for Latin America and the Caribbean; United Nations. Economic Commission for Latin America and the Caribbean; United Nations. Economic and Social Commission for Asia and the Pacific; United Nations. Economic and Social Commission for Western Asia (2003). Information society : regional dimensions Africa, Europe & North America, Latin America & Caribbean, Asia & Pacific, Western Asia.. World Summit on the Information Society (1st : 2003 : Geneva, Switzerland). Geneva :. © UN.ECA. http://hdl.handle.net/10855/41101"

Rapport sur le développement durable en Afrique 2018: vers un continent transforme et résilient

Nations Unies. Commission Economique pour l'Afrique. Centre africain pour le genre et le développement; Commission de l'Union Africaine; Nations Unies Programme de Développement; Banque africaine de développement

"Nations Unies. Commission Economique pour l'Afrique. Centre africain pour le genre et le développement; Commission de l'Union Africaine; Nations Unies Programme de Développement; Banque africaine de développement (2018-11). Rapport sur le développement durable en Afrique 2018: vers un continent transforme et résilient. Addis Abeba. © NU. CEA. "

Démocratie, gouvernance et idée panafricaine: où va l'Afrique?

Nations Unies. Commission Economique pour l'Afrique; Nations Unies. Commission Economique pour l'Afrique. Division de l'administration; Nations Unies. Commission Economique pour l'Afrique; Nations Unies. Commission Economique pour l'Afrique. Division de l'administration

"Nations Unies. Commission Economique pour l'Afrique; Nations Unies. Commission Economique pour l'Afrique. Division de l'administration; Nations Unies. Commission Economique pour l'Afrique; Nations Unies. Commission Economique pour l'Afrique. Division de l'administration (2012-05). Démocratie, gouvernance et idée panafricaine: où va l'Afrique?. Addis Abeba:. © NU. CEA,. "