Report on the seminar on Personnel Administration and Training : Ouagadougou, 21 November - 3 December 1966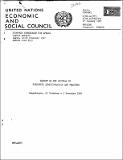 Published
1967-01
Author(s)/Corporate Author (s)
United Nations. Economic Commission for Africa;
United Nations. Economic and Social Council;

Abstract
The Seminar was organized by the Executive Secretary of the Economic Commission for Africa in implementation of project 98 of the programme of work and priorities for 1965-1967. The Seminar was officially opened on 21 November 1966 by Mr. Charles Kabore, Minister for Labour and the Civil Service, representing the Government of the Upper Volta. The Minister emphasized the obligation of African leaders to rethink the structures of established public administrations which have, in their own way, developed a certain civil service mentality, and he went on to say that faced with this situation, a thorough change in thinking proved necessary, and even indispensable.
Citation
"United Nations. Economic Commission for Africa; United Nations. Economic and Social Council (1967-01). Report on the seminar on Personnel Administration and Training : Ouagadougou, 21 November - 3 December 1966. UN. ECA (8th session : 1967, Feb. 13 - 25 : Lagos, Nigeria). Lagos :. © UN. ECA,. http://hdl.handle.net/10855/11283"
Conference
UN. ECA (8th session : 1967, Feb. 13 - 25 : Lagos, Nigeria)
Related items
Showing items related by title, author, creator and subject.
Impact of the economic community of West African States common external tariff and European Union Economic Partnership Agreements

United Nations. Economic Commission for Africa; United Nations. Economic Commission for Africa. Subregional Office West Africa (SRO-WA); United Nations. Economic Commission for Africa. Subregional Office West Africa (SRO-WA); United Nations. Economic Commission for Africa; United Nations. Economic Commission for Africa. Subregional Office West Africa (SRO-WA); United Nations. Economic Commission for Africa. Subregional Office West Africa (SRO-WA)

"United Nations. Economic Commission for Africa; United Nations. Economic Commission for Africa. Subregional Office West Africa (SRO-WA); United Nations. Economic Commission for Africa. Subregional Office West Africa (SRO-WA); United Nations. Economic Commission for Africa; United Nations. Economic Commission for Africa. Subregional Office West Africa (SRO-WA); United Nations. Economic Commission for Africa. Subregional Office West Africa (SRO-WA) (2017). Impact of the economic community of West African States common external tariff and European Union Economic Partnership Agreements. Addis Ababa. © UN.ECA. https://repository.uneca.org/handle/10855/43873"

Information society : regional dimensions Africa, Europe & North America, Latin America & Caribbean, Asia & Pacific, Western Asia.

United Nations. Economic Commission for Africa.; United Nations. Economic Commission for Latin America and the Caribbean; United Nations. Economic Commission for Latin America and the Caribbean; United Nations. Economic and Social Commission for Asia and the Pacific; United Nations. Economic and Social Commission for Western Asia

"United Nations. Economic Commission for Africa.; United Nations. Economic Commission for Latin America and the Caribbean; United Nations. Economic Commission for Latin America and the Caribbean; United Nations. Economic and Social Commission for Asia and the Pacific; United Nations. Economic and Social Commission for Western Asia (2003). Information society : regional dimensions Africa, Europe & North America, Latin America & Caribbean, Asia & Pacific, Western Asia.. World Summit on the Information Society (1st : 2003 : Geneva, Switzerland). Geneva :. © UN.ECA. http://hdl.handle.net/10855/41101"

Rapport sur le développement durable en Afrique 2018: vers un continent transforme et résilient

Nations Unies. Commission Economique pour l'Afrique. Centre africain pour le genre et le développement; Commission de l'Union Africaine; Nations Unies Programme de Développement; Banque africaine de développement

"Nations Unies. Commission Economique pour l'Afrique. Centre africain pour le genre et le développement; Commission de l'Union Africaine; Nations Unies Programme de Développement; Banque africaine de développement (2018-11). Rapport sur le développement durable en Afrique 2018: vers un continent transforme et résilient. Addis Abeba. © NU. CEA. "