Provisional summary record of the one hundred and thirty - third meeting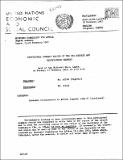 Published
1967-02
Author(s)/Corporate Author (s)
United Nations. Economic and Social Council;
United Nations. Economic Commission for Africa;

Abstract
the African countries must pool their efforts in the field of research. In addition to the continent-s existing facilities, his country available to the African countries a number of economics, industrial and scientific research institute, and centres mainly located at Lovableness,University (Kinshasa) and at Lubumbashi University. Increased co-operation was also needed in the training of professional staff, mstead of sending their students to the developed countries, where they chose a subject of study not yet offered in their home countries,the African states should encourage them to attend African universities. That would both make it possible to justify the substantial sums invested in those institutions and to avoid cutting students off from the realities of their environment, while guaranteeing them a solid training.
Citation
"United Nations. Economic and Social Council; United Nations. Economic Commission for Africa (1967-02). Provisional summary record of the one hundred and thirty - third meeting. UN. ECA (8th session : 1967, Feb. 13 - 25 : Lagos, Nigeria). Addis Ababa :. © UN. ECA,. https://hdl.handle.net/10855/11264"
Conference
UN. ECA (8th session : 1967, Feb. 13 - 25 : Lagos, Nigeria)
Related items
Showing items related by title, author, creator and subject.
Note conceptuelle: Comité intergouvernemental de hauts fonctionnaires et d'experts pour l'Afrique du Nord

Nations Unies. Commission Economique pour l'Afrique; Nations Unies. Commission économique pour l'Afrique. Bureau Sous-Régional pour l'Afrique de l'Ouest; Nations Unies. Commission économique pour l'Afrique. Bureau Sous-Régional pour l'Afrique du Nord

"Nations Unies. Commission Economique pour l'Afrique; Nations Unies. Commission économique pour l'Afrique. Bureau Sous-Régional pour l'Afrique de l'Ouest; Nations Unies. Commission économique pour l'Afrique. Bureau Sous-Régional pour l'Afrique du Nord (2022-08). Note conceptuelle: Comité intergouvernemental de hauts fonctionnaires et d'experts pour l'Afrique du Nord. NU. CEA Réunion du Comité intergouvernemental de hauts fonctionnaires et d'experts pour l'Afrique du Nord (1ère: 2022, 1-3 nov.: Marrakech, Maroc). Addis Abeba:. © NU. CEA,. https://hdl.handle.net/10855/49120"

Information society : regional dimensions Africa, Europe & North America, Latin America & Caribbean, Asia & Pacific, Western Asia.

United Nations. Economic Commission for Africa.; United Nations. Economic Commission for Latin America and the Caribbean; United Nations. Economic Commission for Latin America and the Caribbean; United Nations. Economic and Social Commission for Asia and the Pacific; United Nations. Economic and Social Commission for Western Asia

"United Nations. Economic Commission for Africa.; United Nations. Economic Commission for Latin America and the Caribbean; United Nations. Economic Commission for Latin America and the Caribbean; United Nations. Economic and Social Commission for Asia and the Pacific; United Nations. Economic and Social Commission for Western Asia (2003). Information society : regional dimensions Africa, Europe & North America, Latin America & Caribbean, Asia & Pacific, Western Asia.. World Summit on the Information Society (1st : 2003 : Geneva, Switzerland). Geneva :. © UN.ECA. https://hdl.handle.net/10855/41101"

Note conceptuelle: Atelier de partage de connaissances et de partenariat dans le cadre des forums régionaux sur l'évolution probable du climat

Nations Unies. Commission Economique pour l'Afrique; Nations Unies. Commission Economique pour l'Afrique. Division des initiatives spéciales. Centre africain pour les politiques en matière de climat; Nations Unies. Commission Economique pour l'Afrique; Nations Unies. Commission Economique pour l'Afrique. Division des initiatives spéciales. Centre africain pour les politiques en matière de climat

"Nations Unies. Commission Economique pour l'Afrique; Nations Unies. Commission Economique pour l'Afrique. Division des initiatives spéciales. Centre africain pour les politiques en matière de climat; Nations Unies. Commission Economique pour l'Afrique; Nations Unies. Commission Economique pour l'Afrique. Division des initiatives spéciales. Centre africain pour les politiques en matière de climat (2018-05). Note conceptuelle: Atelier de partage de connaissances et de partenariat dans le cadre des forums régionaux sur l'évolution probable du climat. NU. CEA Atelier de partage de connaissances et de partenariat dans le cadre des forums régionaux sur l'évolution probable du climat (2018, 13-14 mai.: Djibouti, Djibouti). Addis Abeba. © NU. CEA. https://hdl.handle.net/10855/24521"