Draft Outline on a Paper to be Prepared on "Issues and Proposals for the International Conference on Africa's External Indebtedness"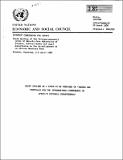 Published
1986-03
Author(s)/Corporate Author (s)
United Nations. Economic and Social Council;
United Nations. Economic Commission for Africa;

Abstract
The 21st Ordinary Session of the Assembly of the Heads of State and Government of the Organization of African Unity resolved that African countries should press for an international conference on Africa's External Indebtedness as a matter of urgency to provide a forum for creditors and African borrowers to discuss Africa's external debt with a; view: to arriving at appropriate emergency, short-s medium- and long-term measures, to alleviate Africa's debt problems. In this connection, the Secretary General of Organization of African Unity, the Executive Secretary of the Economic Commission for Africa and the President of the African Development Bank were requested to initiate the necessary preparation in order to ensnare, the success of the conference.
Citation
"United Nations. Economic and Social Council; United Nations. Economic Commission for Africa (1986-03). Draft Outline on a Paper to be Prepared on "Issues and Proposals for the International Conference on Africa's External Indebtedness". UN. ECA Intergovernmental Group of Experts from Ministries of Finance, Central Banks and Legal Departments on the Establishement of an African Monetary Fund Meeting (3rd : 1986, Apr, 2-5 : Yaounde, Cameroon). Addis Ababa :. © UN. ECA,. https://hdl.handle.net/10855/10480"
Conference
UN. ECA Intergovernmental Group of Experts from Ministries of Finance, Central Banks and Legal Departments on the Establishement of an African Monetary Fund Meeting (3rd : 1986, Apr, 2-5 : Yaounde, Cameroon)