Towards a new paradigm for international cooperation : telematics and computer networks-tool sustainable development of rural and ''remote'' regions and countries?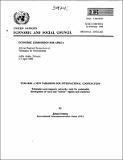 Published
1995-02
Author(s)/Corporate Author (s)
Ernberg, Johan;
United Nations. Economic and Social Council;
United Nations. Economic Commission for Africa;

The purpose of this paper is to analyze the needs for telecommunications and information technology (IT) in developing countries, particularly in rural and. remote areas, to identify obstacles and to examine ways and means of accelerating the development. It concludes that developing countries need advanced telemetric services now, to enhance the efficiency of their public services, particularly education and health care. The availability of such service would also give their Small and Medium Enterprises the tools they need to compete in the global economy and enable governments as well as academic and Research Institutes TO benefit from the wealth of on-line information, education, library resources and "knowledge networks", already accessible through computer networks. Rural telecommunications must start with the provision of telephones, but this paper endeavors to demonstrate that access to advanced telemetric, services would be of immense added value. Besides giving rural community authorities, entrepreneurs, schools and health care centers access to the rapidly increasing wealth of on-line resources, advanced telemetric services would enable city-based enterprises to establish virtual offices for "steelworkers" in remote areas. All of this will contribute to reversing the emigration to large cities and to reducing transport of people.
Citation
"Ernberg, Johan; United Nations. Economic and Social Council; United Nations. Economic Commission for Africa (1995-02). Towards a new paradigm for international cooperation : telematics and computer networks-tool sustainable development of rural and ''remote'' regions and countries?. UN. ECA African Regional Symposium on Telematics for Development (1995, Apr.3-7 : Addis Ababa, Ethiopia). Addis Ababa :. © UN. ECA,. http://hdl.handle.net/10855/5166"
Conference
UN. ECA African Regional Symposium on Telematics for Development (1995, Apr.3-7 : Addis Ababa, Ethiopia)
Collections