Building and rehabilitating critical capacities to exploit natural resources and diversify the economy in to processing and manufacturing in Zimbabwe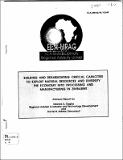 Published
1995-04
Author(s)/Corporate Author (s)
Tiagha, Edward A.;
Daniel B.Ndlela;
United Nations. Economic Commission for Africa;

The performance of African economies has steadily been on the decline. This decline is perhaps more rapid in the industrial sector where the share of manufacturing in the total regional GDP declined from 11.35 per cent in 1986 to an average 10.6 per cent during the period 1990 - 1992. The MVA at 1990 prices (as a percentage of GDP) for developing Africa has also declined from 12.1 in 1990 to 11.8 in 1993. It will be recalled that the Lima Declaration and Plan of Action on Industrial Development and Cooperation proclaimed in Lima, Peru in 1975, had called for 25 per cent of world industrial production to be located in the developing countries by the year 2000. This ambitious target looks more and more difficult to attain and it would appear that Africa will not even attain half of this target by the year 2000, unless a lot of effort is put into the mobilization of African capacities.
Citation
"Tiagha, Edward A.; Daniel B.Ndlela; United Nations. Economic Commission for Africa (1995-04). Building and rehabilitating critical capacities to exploit natural resources and diversify the economy in to processing and manufacturing in Zimbabwe. Multidisciplinary Regional Advisory Group. Addis Ababa :. © UN. ECA,. http://hdl.handle.net/10855/4351"
Conference
Multidisciplinary Regional Advisory Group
Related items
Showing items related by title, author, creator and subject.
Framework for a set of e-government core indicators

United Nations. Economic Commission for Africa.; United Nations. Economic Commission for Latin America and the Caribbean; United Nations. Economic and Social Commission for Asia and the Pacific; United Nations. Economic and Social Commission for Western Asia; Statistical Office of the European Union; International Telecommunication Union; Organisation for Economic Co-operation and Development; United Nations Conference on Trade and Development

"United Nations. Economic Commission for Africa.; United Nations. Economic Commission for Latin America and the Caribbean; United Nations. Economic and Social Commission for Asia and the Pacific; United Nations. Economic and Social Commission for Western Asia; Statistical Office of the European Union; International Telecommunication Union; Organisation for Economic Co-operation and Development; United Nations Conference on Trade and Development (2012). Framework for a set of e-government core indicators. Addis Ababa :. © UN. ECA,. http://hdl.handle.net/10855/25669"

Information society : regional dimensions Africa, Europe & North America, Latin America & Caribbean, Asia & Pacific, Western Asia.

United Nations. Economic Commission for Africa.; United Nations. Economic Commission for Latin America and the Caribbean; United Nations. Economic Commission for Latin America and the Caribbean; United Nations. Economic and Social Commission for Asia and the Pacific; United Nations. Economic and Social Commission for Western Asia

"United Nations. Economic Commission for Africa.; United Nations. Economic Commission for Latin America and the Caribbean; United Nations. Economic Commission for Latin America and the Caribbean; United Nations. Economic and Social Commission for Asia and the Pacific; United Nations. Economic and Social Commission for Western Asia (2003). Information society : regional dimensions Africa, Europe & North America, Latin America & Caribbean, Asia & Pacific, Western Asia.. World Summit on the Information Society (1st : 2003 : Geneva, Switzerland). Geneva :. © UN.ECA. http://hdl.handle.net/10855/41101"

Monitoring and evaluation programme of the implementation of the Dakar and Beijing Platforms for Action task brief

United Nations. Economic and Social Council; United Nations. Economic Commission for Africa. African Centre for Gender and Development; United Nations. Economic Commission for Africa; United Nations. Economic Commission for Africa. African Centre for Women

"United Nations. Economic and Social Council; United Nations. Economic Commission for Africa. African Centre for Gender and Development; United Nations. Economic Commission for Africa; United Nations. Economic Commission for Africa. African Centre for Women (2001-11). Monitoring and evaluation programme of the implementation of the Dakar and Beijing Platforms for Action task brief. UN. ECA Committee on Women and Development (CWD) Meeting (2001, novembre 5 - 8 : Addis Abeba, Ethiopie). Addis Ababa :. © UN. ECA,. http://hdl.handle.net/10855/15741"