Africa data revolution report 2016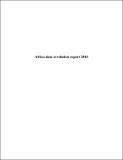 Published
2016
Author(s)/Corporate Author (s)
United Nations. Economic Commission for Africa;

This report examines the current state of the data ecosystem in Africa, its desired end state, and the gaps in between. It also provides recommendations on how to bridge these gaps. It maps the current data ecosystem in Africa in terms of purpose, actors, principles and protocols; legal, legislative and policy frameworks; technological infrastructure, tools and platforms; and the dynamic interactions between purposes, actors, frameworks, technologies and systems. This report conceptualizes the African data revolution and identifies what is revolutionary about it – notably the exponential increase in the volume, types and speed of data available in African countries; the increased availability and use of new types of data as well as new uses of old or conventional types of data; new principles of data governance, including the principles of inclusion and openness; and new data-related rights and freedoms. The report argues that underlying the concept of the African data revolution is a fundamental conceptual and paradigmatic shift on the question of who and what officially counts, is counted, how, by whom, for whom and for what purposes.
Citation
"United Nations. Economic Commission for Africa (2016). Africa data revolution report 2016. Addis Ababa:. © UN. ECA,. "
Related items
Showing items related by title, author, creator and subject.
The Demographic profile of African countries

United Nations. Economic Commission for Africa

"United Nations. Economic Commission for Africa (2016-03). The Demographic profile of African countries. Addis Ababa. © UN. ECA. "

Revised proposed strategic framework for the period 2014-2015

United Nations. Economic and Social Council; United Nations.Economic Commission for Africa.

"United Nations. Economic and Social Council; United Nations.Economic Commission for Africa. (2013-03). Revised proposed strategic framework for the period 2014-2015. UN. ECA Meeting of the Committee of experts Sixth Joint Annual Meetings of the ECA Conference of African Ministers of Finance, Planning and Economic Development and AU Conference of Ministers of Economy and Finance (32nd 2013, Mar. 21-24 Abidjan, Côte d'Ivoire). http://hdl.handle.net/10855/22098"