Assessing progress made after 15 years of implementing the Millennium Development Goals in West Africa and the transition to the Sustainable Development Goals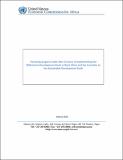 Published
2016-03
Author(s)/Corporate Author (s)
United Nations. Economic Commission for Africa. Subregional Office West Africa (SRO-WA);

This 2015 report assessing the progress made in West Africa towards fulfilling the MDGs, the second of its kind, not only provides an annual cumulative assessment of the subregion's efforts to achieve the MDGs but also provides States with information on the progress made. In terms of advances made, subregional performances have been very mixed, although some countries produced satisfactory results for certain MDG indicators including progress made in access to primary education, improvement of child health, the fight against HIV/AIDS and access to drinking water. Nevertheless, West Africa needs to make increased efforts over the next 15 years to combat poverty and inequality, promote female empowerment, improve child and maternal health and provide access to sanitation facilities while continuing to reinforce the quality of basic social services, particularly in health and education.
Citation
"United Nations. Economic Commission for Africa. Subregional Office West Africa (SRO-WA) (2016-03). Assessing progress made after 15 years of implementing the Millennium Development Goals in West Africa and the transition to the Sustainable Development Goals. Addis Ababa:. © UN. ECA,. "
Collections
Related items
Showing items related by title, author, creator and subject.