Regional and sub regional coordination mechanism handbook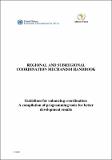 Published
2017
Author(s)/Corporate Author (s)
United Nations. Economic Commission for Africa;
African Union Commission;

The Guidelines aim to improve coordination skills and competencies among institutions responsible for regional or subregional program implementation; and to provide knowledge on the tools needed to translate continental and regional development programs into concrete action at the subregional and national levels. The idea of guidelines for RCM and the Subregional Coordinating Mechanisms (SRCMs) emanated from the desire to ensure that common standards in programming, implementation and reporting were applied among RCM clusters and activities, thereby enhancing the effectiveness of their activities. This volume focuses on joint programming and joint implementation, the key instruments for harnessing the benefits of coordination and the opportunities derived from sharing a common vision at the continental level, in the context of African Union regional integration programs.
Citation
"United Nations. Economic Commission for Africa; African Union Commission (2017). Regional and sub regional coordination mechanism handbook. Addis Ababa:. © UN. ECA,. "
Related items
Showing items related by title, author, creator and subject.