Seventeenth quarterly briefing meeting with African ambassadors: briefing note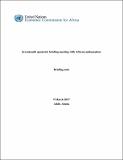 Date
2017-03
Author(s)/Corporate Author (s)
United Nations. Economic Commission for Africa;

The present briefing note focuses on substantive areas of work, grouped under topics relating to the Commission's program of work: key events, knowledge generation and information-sharing; and capacity development, which includes extending technical support to member States and consensus-building.
Référence
"United Nations. Economic Commission for Africa (2017-03). Seventeenth quarterly briefing meeting with African ambassadors: briefing note. Addis Ababa:. © UN. ECA,. "
Documents connexes
Afficher documents connexes par titre, auteur, créateur et sujet.