Seventeenth quarterly briefing meeting with African ambassadors: briefing note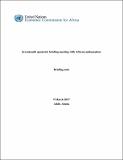 Published
2017-03
Author(s)/Corporate Author (s)
United Nations. Economic Commission for Africa;

The present briefing note focuses on substantive areas of work, grouped under topics relating to the Commission's program of work: key events, knowledge generation and information-sharing; and capacity development, which includes extending technical support to member States and consensus-building.
Citation
"United Nations. Economic Commission for Africa (2017-03). Seventeenth quarterly briefing meeting with African ambassadors: briefing note. Addis Ababa:. © UN. ECA,. "
Related items
Showing items related by title, author, creator and subject.
Renouvellement de la planification: la planification au service du développement industriel de l'Afrique: Document de travail d'une manifestation parallèle

Nations Unies. Commission Economique pour l'Afrique

"Nations Unies. Commission Economique pour l'Afrique (2014-03). Renouvellement de la planification: la planification au service du développement industriel de l'Afrique: Document de travail d'une manifestation parallèle. NU. CEA réunion du Comité d'experts (33ème: 2014, mar. 29-30 : Abuja, Nigéria); NU. CEA réunion annuelle conjointe de la Conférence des ministres africains des finances, de la planification et du développement économique de la Commission économique pour l'Afrique et de la Conférence des ministres de l'économie et des finances de l'Union africaine (7ème: 2014, mar. 29-30 : Abuja, Nigéria); NU. CEA Réunion du Comité d'experts(9ème: 2014, mar. 29-30 : Abuja, Nigéria). Addis Abeba :. © NU. CEA,. http://hdl.handle.net/10855/22203"