Development financing in Africa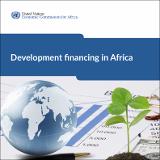 Published
2017-01
Author(s)/Corporate Author (s)
United Nations. Economic Commission for Africa;

Africa remains a continent with urgent development needs, but it is now also a continent that is relying more on its domestic resources and where international support will be channeled for structural transformation and inclusive growth. African Governments know that they are responsible for their countries' development and that financing for development is as much about their own actions as it is about international support. The present paper concerns with the mobilization of domestic and external resources for Africa's structural transformation.The credibility of the financing for development agenda will rest on all means of implementation, which includes not only financial resources, but institutional capacity-building, trade and technology transfer, and systemic issues such as the governance of international financial institutions.
Citation
"United Nations. Economic Commission for Africa (2017-01). Development financing in Africa. Addis Ababa:. © UN. ECA,. "
Related items
Showing items related by title, author, creator and subject.
The growth and structure of financial institutions in African LDCs

United Nations. Economic and Social Council; United Nations. Economic Commission for Africa

"United Nations. Economic and Social Council; United Nations. Economic Commission for Africa (1989-01). The growth and structure of financial institutions in African LDCs. UN. ECA Meeting of the Conference of Ministers of African Least Devlopined Countries (9th 1989, 4-5, Apr : Addis Ababa,Ethiopia).; UN. ECA Meeting of the Intergovernmental Committee of Experts of African Least Developped Countries (8th : 1989, Mar, 22-24 : Addis Ababa, Ethiopia). Addis Ababa :. © UN. ECA,. http://hdl.handle.net/10855/11582"

Report of the Joint Committee of Experts : [final version]

United Nations. Economic Commission for Africa

"United Nations. Economic Commission for Africa (2016-04). Report of the Joint Committee of Experts : [final version]. UN. ECA Joint Annual Meetings of the African Union Specialized Technical Committee on Finance, Monetary Affairs, Economic Planning and Integration and the Economic Commission for Africa Conference of African Ministers of Finance, Planning and Economic Development (9th: 2016, Apr.04 - 05: Addis Ababa, Ethiopia); UN. ECA Conference of African Ministers of Finance, Planning and Economic Development (49th session: 2016, Apr.04 - 05: Addis Ababa, Ethiopia); UN. ECA Specialized Technical Committee on Finance, Monetary Affairs, Economic Planning and Integration (2nd session: 2016, Apr.04 - 05: Addis Ababa, Ethiopia). Addis Ababa. © UN. ECA. "