Science and technology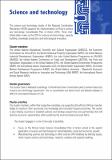 Published
2016
Author(s)/Corporate Author (s)
United Nations. Economic Commission for Africa;

The science and technology cluster of the Regional Coordination Mechanism (RCM) supports the implementation of Africa's science and technology Consolidated Plan of Action (CPA). Three interlinked pillars make up the CPA for science and technology: capacity building, knowledge production and technological innovation.
Citation
"United Nations. Economic Commission for Africa (2016). Science and technology. Addis Ababa:. © UN. ECA,. "
Related items
Showing items related by title, author, creator and subject.
Science et technologie nucleaires au service du developpement en Afrique

Nations Unies. Commission Economique pour l'Afrique; Nations Unies. Conseil Economique et Social

"Nations Unies. Commission Economique pour l'Afrique; Nations Unies. Conseil Economique et Social (1995-11). Science et technologie nucleaires au service du developpement en Afrique. NU. CEA Réunion de la Conférence Régionale Africaine sur la Science et la Technologie (1ére : 1995, nov. 06 - 10 : Addis Abeba, Ethiopie).. Addis Ababa :. © UN. ECA,. http://hdl.handle.net/10855/14679"

Enhancing the application of scientific outputs of the international network for the demographic evaluation of population and their health: implications for replication and scaling-up through official statistics

United Nations. Economic Commission for Africa; United Nations Population Fund; African Union Commission; World Health Organization; United Nations International Children's Emergency Fund; United Nations. High Commissioner for Human Rights

"United Nations. Economic Commission for Africa; United Nations Population Fund; African Union Commission; World Health Organization; United Nations International Children's Emergency Fund; United Nations. High Commissioner for Human Rights (2017-12). Enhancing the application of scientific outputs of the international network for the demographic evaluation of population and their health: implications for replication and scaling-up through official statistics. UN. ECA Conference of African Ministers responsible for Civil Registration Experts meeting (4th: 2017, Dec. 04-08: Nouakchott, Mauritania). Addis Ababa. © UN. ECA. "