Development account project : strengthening the capacity of member states to design and implement strategies and policies that promote inclusive, sustainable African cities (2015-2017)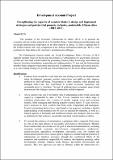 Published
2017
Author(s)/Corporate Author (s)
United Nations. Economic Commission for Africa;

The main objective of the project is to strengthen the capacity of African policymakers and experts to effectively design, reformulate and implement strategies and policies for inclusive, sustainable cities, with an initial focus on five countries: Cabo Verde, Cameroon, Morocco, Uganda and Zambia. The project will also facilitate the efforts of member States to implement and monitor the 2030 Agenda for Sustainable Development, in particular Goal 11, which focuses on making cities inclusive, safe, resilient and sustainable.
Citation
"United Nations. Economic Commission for Africa (2017). Development account project : strengthening the capacity of member states to design and implement strategies and policies that promote inclusive, sustainable African cities (2015-2017). Addis Ababa:. © UN. ECA,. "
Related items
Showing items related by title, author, creator and subject.