Inclusive green economy policies and structural transformation in Burkina Faso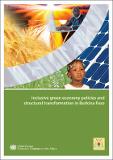 Published
2016-03
Author(s)/Corporate Author (s)
United Nations. Economic Commission for Africa;

This study identifies the relations between inclusive green economy policies and the structural transformation of the economy of Burkina Faso. It also examines ways in which inclusive green economy policies help to shape structural economic transformation in Burkina Faso with a view to sustainable development. The study draws on a conceptual framework which explores the place and role of inclusive green economy policies in structural transformation and sustainable development. In terms of methodology, it comprises a document analysis, a field survey, a data analysis, a series of internal reviews and a validation workshop. The study concludes that structural transformation results from a process at the end of which a modified sectoral configuration of the economy emerges by virtue of economic growth. This modification corresponds to a relatively advanced level of economic development.
Citation
"United Nations. Economic Commission for Africa (2016-03). Inclusive green economy policies and structural transformation in Burkina Faso. Addis Ababa:. © UN. ECA,. "
Related items
Showing items related by title, author, creator and subject.
Report on economic and social conditions in Southern Africa, 2000

United Nations. Economic Commission for Africa; United Nations. Economic Commission for Africa. Southern Africa SubRegional Development Centre (ECA/SA-SRDC)

"United Nations. Economic Commission for Africa; United Nations. Economic Commission for Africa. Southern Africa SubRegional Development Centre (ECA/SA-SRDC) (2001-03). Report on economic and social conditions in Southern Africa, 2000. UN. ECA Intergovernmental Committee of Experts for Southern Africa (ICE) Meeting(7th :2001, Apr. 03 - 06 :Lusaka, Zambia). Lusaka:. © UN. ECA,. http://hdl.handle.net/10855/4736"

Survey of economic and social conditions in Africa, 1978 - 1979 - Part II section A

United Nations. Economic and Social Council; United Nations. Economic Commission for Africa

"United Nations. Economic and Social Council; United Nations. Economic Commission for Africa (1980-04). Survey of economic and social conditions in Africa, 1978 - 1979 - Part II section A. UN. ECA Meeting of the Technical Preparatory Committee of the Whole (1st : 1980, Apr. 3-8 : Addis Ababa, Ethiopia); UN. ECA Conference of Ministers Meeting (6th : 1980, Apr. : Addis Ababa, Ethiopia); UN. ECA (15th session : 1980, Apr. 09 - 12 : Addis Ababa, Ethiopia). Addis Ababa :. © UN. ECA,. http://hdl.handle.net/10855/16260"