Gender equality and the Africa peer review mechanism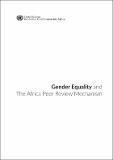 Published
2016
Author(s)/Corporate Author (s)
United Nations. Economic Commission for Africa;

Gender inequality is at the root of the systemic challenges that women in Africa face, resulting in their exclusion and marginalization in all spheres of life. Transcending the private sector, these norms are replicated, reinforced and entrenched in the public sector, leading to discrimination against women in the political, cultural, social and economic arenas. The study analyses the extent to which the Africa Peer Review Mechanism (APRM) provides meaningful, concrete and sustainable approaches towards addressing the long-standing and outstanding problem of gender inequality in Africa. It assesses the policy and institutional frameworks from a gender perspective, as well as processes and actors that are established at national and continental levels under the mechanism. It approaches this firstly as a human rights issue and secondly as a development issue employing the rights-based approach to development that takes into account the experiences, perspectives and rights of both men and women.
Citation
"United Nations. Economic Commission for Africa (2016). Gender equality and the Africa peer review mechanism. Addis Ababa. © UN. ECA,. "
Related items
Showing items related by title, author, creator and subject.