From the millennium development goals to sustainable development goals: path and additional efforts of West African countries towards achieving the objectives set for 2030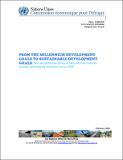 Published
2016-04
Author(s)/Corporate Author (s)
United Nations. Economic Commission for Africa. Sub regional office for West Africa;

This report entitled "From Millennium Development Goals to Sustainable Development Goals" describing the steps forward in the sub‐region towards achieving the MDGs and the transition to SDGs, has been drawn up in the context of the 19th Intergovernmental Committee of Experts (ICE) for West Africa, organized by ECA's Sub‐regional Office for West Africa. Its purpose is to inform Member States on the overall progress made by the sub‐region since 2000 in terms of MDGs, draw the lessons and discuss the required strategic and operational directions for completion in the next 15 years, of the efforts made in the context of the MDGs. It will also be used as an advocacy tool for effective ownership and mobilization of Member States for successful implementation of the SDGs in 2030.
Citation
"United Nations. Economic Commission for Africa. Sub regional office for West Africa (2016-04). From the millennium development goals to sustainable development goals: path and additional efforts of West African countries towards achieving the objectives set for 2030. Addis Ababa. © UN.ECA. "
Collections
Related items
Showing items related by title, author, creator and subject.