Socioeconomic Profile of West Africa in 2015 and Prospects for 2016 : 25-26 February 2016, Dakar, Senegal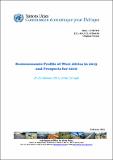 Published
2016-02
Author(s)/Corporate Author (s)
United Nations. Economic Commission for Africa;

The present report analyses the economic situation in 2015 and the prospects for 2016 for the West Africa region. It includes a thematic section on ECA country profiles, which is a new reference publication designed to support West African countries embarking on the structural transformation of their economies. This report has been prepared against this backdrop on the economic profile of West Africa in 2015 and prospects for 2016. The current edition is divided into two parts. The first provides a review of the international economic environment, a sub-regional situation analysis and risks and prospects for 2016. The second part of the report provides the theme for the ECA country profiles. Lastly, the report makes recommendations on policies likely to accelerate the dynamics of the economic and social development of the sub region.
Citation
"United Nations. Economic Commission for Africa (2016-02). Socioeconomic Profile of West Africa in 2015 and Prospects for 2016 : 25-26 February 2016, Dakar, Senegal. Addis Ababa. © UN. ECA,. "
Collections
Related items
Showing items related by title, author, creator and subject.