ECA Sahel study: conflict in the Sahel region and the developmental consequences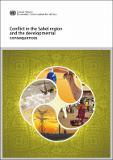 Published
2016
Author(s)/Corporate Author (s)
United Nations. Economic Commission for Africa;

The research focuses on front-line States in relation to two conflict corridors, namely Northern Mali and Northeast Nigeria (Lake Chad Basin), where large-scale armed conflicts and violence are rife. Some generic features and characteristics define these two corridors. First, they directly or geographically manifest the impact of armed conflict and large-scale insecurities. Second, governments are responding to the insecurity by deploying troops, increasing patrols or combating with armed groups. Third, tensions occur between host communities and displaced or refugee communities. Fourth and last, the corridors crisscross national boundaries. The emphasis on these front-line States does not preclude tangential focus and gathering of data and use of examples from other Sahelian States. Countries of secondary focus include Algeria, Cameroon, Chad and Guinea Bissau. When the study began, Cameroon and Chad had not yet acquired their current status as significant extensions to the Northeast Nigeria conflict corridor. Nonetheless, the choice of Niger as the main extension of that corridor is significant. The country is at the intersection of both corridors – from Northeast Mali and Northeast Nigeria – and has been at the receiving end of the insecurity caused by the armed conflicts.
Citation
"United Nations. Economic Commission for Africa (2016). ECA Sahel study: conflict in the Sahel region and the developmental consequences. Addis Ababa. © UN.ECA. "
Collections
Related items
Showing items related by title, author, creator and subject.