Institutions and service delivery in a developmental state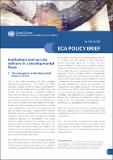 Published
2016
Author(s)/Corporate Author (s)
United Nations. Economic Commission for Africa;

Out of the failed experiences of the structural adjustment program of the 1980s and 1990s emerged a group of African leaders determined to turn around the widely held view that Africa was socially and economically a hopeless continent. That small but effective group of new leaders took radical steps that often put them at odds with the domineering neoclassical concept of development. They were convinced that free market forces alone would not lead to economic transformation, as they were purported to do under the program, but that the State must play a central role in resource allocation and the coordination of crucial economic activities. In a developmental State, the public service not only focuses on outputs but has to be keenly aware of outcomes and, in doing so, has to deliver services in ways that are efficient, effective, and maintain the dignity of citizens and respect their rights.
Citation
"United Nations. Economic Commission for Africa (2016). Institutions and service delivery in a developmental state. ECA policy brief. ECA/16/103, 4 p.. Addis Ababa:. © UN. ECA,. "
Serial Title
ECA policy brief
Related items
Showing items related by title, author, creator and subject.
La privatisation des entreprises publiques: les leçons des expériences africaines

Nations Unies. Commission Economique pour l'Afrique. Division de l'administration publique, des resources humaines et du développement social

"Mostafa, Rhomari; Nations Unies. Commission Economique pour l'Afrique. Division de l'administration publique, des resources humaines et du développement social (1993). La privatisation des entreprises publiques: les leçons des expériences africaines. NU. CEA Conférence Régionale sur la Gestion du Développement en Afrique: Trente années d'expérience, les nouveaux défis et les priorités futures (1993, mars 8 - 12 : Addis Abeba, Ethiopie).. Addis Abeba :. © NU. CEA,. http://hdl.handle.net/10855/3859"

Administration for development

United Nations. Economic Commission for Africa. Public Administration Section; United Nations. Economic Commission for Africa; United Nations

"United Nations. Economic Commission for Africa. Public Administration Section; United Nations. Economic Commission for Africa; United Nations (1971). Administration for development. [Addis Ababa] :. © UN. ECA,. http://hdl.handle.net/10855/14951"