MDGs to Agenda 2063/SDGs Transition Report 2016: towards an integrated and coherent approach to sustainable development in Africa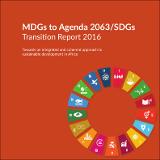 Published
2016-09
Author(s)/Corporate Author (s)
United Nations. Economic Commission for Africa;

The year 2016 marked a transition period from the Millennium Development Goals to the 2030 Agenda for Sustainable Development. At the continental level, African countries are also transitioning from the New Economic Partnership for Africa's Development (NEPAD) to Agenda 2063, a development framework that seeks to expedite the transformation of the continent. This year's report review a transition from the Millennium Development Goals (MDGs) to the new continental and global sustainable development agenda: African Agenda 2063 and the 2030 Agenda for Sustainable Development. The report takes stock of Africa's performance on the MDGs and reflects on the opportunities and challenges associated with the implementation of Agenda 2063 and the Sustainable Development Goals (SDGs). This report also provides an analysis of progress recorded under each of the MDGs, the gaps remaining and bottlenecks identified by countries in their progress towards the MDGs will invariably influence their performance on the new global development framework. Our stocktaking analysis of Africa's performance on the MDGs reveals that while performance has been uneven among countries, progress generally accelerated in the latter years of the MDG era. It concludes with an analysis of the challenges and opportunities and provides recommendations to smooth the transition process.
Citation
"United Nations. Economic Commission for Africa (2016-09). MDGs to Agenda 2063/SDGs Transition Report 2016: towards an integrated and coherent approach to sustainable development in Africa. Addis Ababa,. © UN. ECA:. "
Related items
Showing items related by title, author, creator and subject.