Compendium of gender statistics in Africa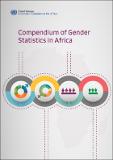 Published
2016-04
Author(s)/Corporate Author (s)
United Nations. Economic Commission for Africa;

This report focused on advocacy and awareness-raising, have had some success in raising awareness and generating interest to take these issues forward. The Statistical Commission for Africa has also set up a standing working group on gender statistics. At the national level, the design and implementation of national strategies for the development of statistics have been undertaken by many African countries in conjunction with regional activities spearheaded by the Economic Commission for Africa. The Economic Commission for Africa is mandated to work closely with national statistical systems to strengthen their capacity to generate reliable and credible gender statistics and to overcome challenges faced by national statistical office in producing gender statistics. In the first section of this report, an assessment of the status of gender statistics in the countries will be presented based on the responses to the questionnaire sent to national statistics offices. In the second section, the assessment will cover regional institutions, schools of statistics and training centers in statistics and their commitment to the production of gender statistics.
Citation
"United Nations. Economic Commission for Africa (2016-04). Compendium of gender statistics in Africa. Addis Ababa,. © UN. ECA:. "
Related items
Showing items related by title, author, creator and subject.
Levels, patterns, and implications of fertility in Africa

United Nations. Economic and Social Council; United Nations. Economic Commission for Africa

"United Nations. Economic and Social Council; United Nations. Economic Commission for Africa (1972-10). Levels, patterns, and implications of fertility in Africa. UN. ECA Working Group of Fertility levels and differentials in Africa and the prospects for the future(1972: Dec. 18 - 22 :Addis Ababa, Ethiopia). Addis Ababa :. © UN. ECA,. http://hdl.handle.net/10855/11148"