Socio-economic profile of West Africa in 2014 and prospects for 2015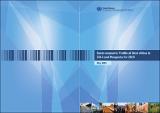 Published
2015-05
Author(s)/Corporate Author (s)
United Nations. Economic Commission for Africa. Subregional Office West Africa (SRO-WA);

The report on the regional socio-economic profile compiled by the Sub-Regional Office for West Africa of the Economic Commission for Africa (ECA/SRO-WA) provides an analysis of the social and economic conditions over the period 2013 -2014 and prospects in 2015 for the Economic Community of West African States (ECOWAS) region. And also an analysis of one major emerging social issue in the sub region. It is submitted to the Intergovernmental Committee of Experts to tease out the recommendations on development policies and strategies that are likely to contribute to structural transformation as well as economic and social development of countries in the region.
Citation
"United Nations. Economic Commission for Africa. Subregional Office West Africa (SRO-WA) (2015-05). Socio-economic profile of West Africa in 2014 and prospects for 2015. Addis Ababa:. © UN. ECA,. "
Collections
Related items
Showing items related by title, author, creator and subject.
Reports on the fifth session of the statistical commission for Africa

United Nations. Economic Commission for Africa; African Union Commission; United Nations. Economic and Social Council

"United Nations. Economic Commission for Africa; African Union Commission; United Nations. Economic and Social Council (2017-02). Reports on the fifth session of the statistical commission for Africa. UN. ECA Committee of Experts (36th:2017, Mar. 23 - 25:Dakar, Senegal); UN. ECA Joint Annual Meetings of the African Union Specialized Technical Committee on Finance, Monetary Affairs, Economic Planning and Integration and the Economic Commission for Africa Conference of African Ministers of Finance, Planning and Economic Development(10th:2017, Mar.23 - 25:Dakar, Senegal); AU Committee of Experts Meeting(3rd :2017, Mar. 23 - 25 :Dakar, Senegal). Addis Ababa:. © UN. ECA,. "

African statistical newsletter = Bulletin d'information statistique

United Nations. Economic Commission for Africa. African Centre for Statistics (ACS)

"United Nations. Economic Commission for Africa. African Centre for Statistics (ACS) (2012-06). African statistical newsletter = Bulletin d'information statistique. African statistical newsletter. Volume 6, Issue 2, iii, 49 p.. Addis Ababa. © UN.ECA. "