Enhancing water resources management through inclusive green economy: the case of Lake Victoria Basin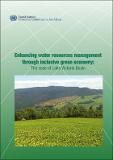 Published
2016-06
Author(s)/Corporate Author (s)
United Nations. Economic Commission for Africa;

The inclusive green economy concept promises a new economic growth pathway that is both ecologically benign and contributes to social equity and poverty eradication. Inclusive green economy underscores social equity or inclusion in the pursuance of a green economy or green growth. Green economy entails progress towards human development and improved human well being, while preventing environmental harm, so that the natural capital that produces economic growth and sustains development is maintained. It is against this backdrop that the present report gives an assessment of how the application of inclusive green economy-related principles in selected projects of the Lake Victoria Basin has contributed to the sustainable management of its water resources.
Citation
"United Nations. Economic Commission for Africa (2016-06). Enhancing water resources management through inclusive green economy: the case of Lake Victoria Basin. Addis Ababa:. © UN. ECA,. "
Related items
Showing items related by title, author, creator and subject.