Achieving sustainable development in Africa through inclusive green growth: leveraging trade potential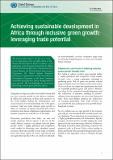 Date
2016
Author(s)/Corporate Author (s)
United Nations. Economic Commission for Africa;

Trade plays an important role in the world economy and can spur economic growth on the African continent. It reflects the preferences of firms and consumers on the world market, making the environmental and social outcomes of international trade vital to the green economy. Trade can foster inclusive green growth in Africa as countries can expand the goods and services produced, create decent employment opportunities and enhance economic ties with the rest of the world. The brief highlights the role of trade in fostering inclusive green growth in Africa.
Référence
"United Nations. Economic Commission for Africa (2016). Achieving sustainable development in Africa through inclusive green growth: leveraging trade potential. ECA Policy Brief. No. 006, 3 p.. Addis Ababa:. © UN. ECA,. "
Titre de série
ECA Policy Brief
Documents connexes
Afficher documents connexes par titre, auteur, créateur et sujet.
Le projet de système de préférences générales et les pays africains

Organization of African Unity; Nations Unies. Commission Economique pour l'Afrique; Nations Unies. Conseil Economique et Social

"Organization of African Unity; Nations Unies. Commission Economique pour l'Afrique; Nations Unies. Conseil Economique et Social (1970-07). Le projet de système de préférences générales et les pays africains. NU. CEA Réunion Mixte CEA/OUA sur le commerce et le développement (5ème : 1970, aou. 13 - 31. : Genève, Suisse). Addis Ababa :. © UN. ECA,. http://hdl.handle.net/10855/8534"