Quality assurance procedures: ECA indices (ARII, ASDI, and AGDI)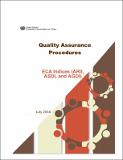 Published
2016-07
Author(s)/Corporate Author (s)
United Nations. Economic Commission for Africa;

With the advent of a new business model, ECA has embarked on creating monitoring and evaluation mechanisms and tools to assist African member states in demonstrating the progress they have made in implementing the continent-wide agreements related to regional integration, social and gender development. To this end, The African Regional Integration Index (ARII), the African Social Development Index (ASDI) and the African Gender Development Index (AGDI) have been developed. An index is a mathematical aggregation of a set of elementary, individual indicators that measure a multi-layered, larger phenomenon such as regional integration, social inclusion, gender quality and the empowerment of women. This document is designed to provide step-by-step procedures to ensure ECA Indices (ARII, ASDI and AGDI) meet the acceptable quality standards. The document introduces the existing organizational guidelines, mandates and documents that guide the quality process. It also presents the specific checklists to be used both for self-assurance and for assessing the quality of the final product.
Citation
"United Nations. Economic Commission for Africa (2016-07). Quality assurance procedures: ECA indices (ARII, ASDI, and AGDI). Addis Ababa:. © UN. ECA,. "
Related items
Showing items related by title, author, creator and subject.
United Nations technical assistance in planning

United Nations. Economic Commission for Africa

"United Nations. Economic Commission for Africa (1994-02). United Nations technical assistance in planning. UN. ECA Joint Conference of African Planners, Statisticans and Demographers|n(8th session :|d1994, Mar. 21 - 26 :|cAddis Ababa, Ethiopia). Addis Ababa :. © UN. ECA,. http://hdl.handle.net/10855/22427"