Enhancing domestic private sector development in Africa: a focus on renewable energy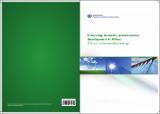 Published
2016-04
Author(s)/Corporate Author (s)
United Nations. Economic Commission for Africa;

The present paper addresses one aspect of what some experts refer to as "modern" industrial policy in Africa by exploring how the participation of domestic private companies in renewable energy generation can be enhanced. This paper seeks to explore how governments in Africa can effectively employ deliberate and calculated public policies and strategies to stimulate domestic production and grow private entrepreneurship, especially in sectors such as renewable energy generation. This energy sub-sector merits such discussion because of its rapid growth and the innovations used to achieve increased local private participation in renewable energy projects. Renewable energy is also a critical component of efforts to reduce the impacts of climate change in the developing world, where those impacts will hit hardest. Programmes in South Africa and Uganda have broken new ground with regard to attracting private investment and involving foreign and domestic private companies.
Citation
"United Nations. Economic Commission for Africa (2016-04). Enhancing domestic private sector development in Africa: a focus on renewable energy. Addis Ababa:. © UN. ECA,. "
Related items
Showing items related by title, author, creator and subject.