Tracking progress in land policy formulation and implementation in Africa: background document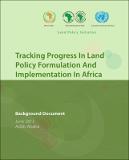 Published
2012-06
Author(s)/Corporate Author (s)
United Nations. Economic Commission for Africa;
African Union Commission;
African Development Bank;

Cognizant of the centrality of land policy issues in Africa, a joint initiative was undertaken by the African Union Commission (AUC), United Nations Economic Commission for Africa (ECA) and the African Development Bank (AfDB) in 2006, forming the genesis of the Land Policy Initiative (LPI). Through the LPI important actions and measures have been launched including a series of regional studies on land issues across Africa accompanied by rigorous consultations and discussions at regional and continental levels. During the whole process, the immediate and urgent need to develop and implement a tracking system to monitor land policy formulation and implementation has been underlined in bold. These pinpointed the urgent need to track progress in land policy formulation and implementation, among other issues. The F&G outline the functions of the tracking system, and the principles and criteria to be used to develop it. This background document, therefore draws on the F&G, on a review of a series of land monitoring reports produced by LPI and other pertinent literatures. Broadly, its key purpose is to define a relevant, flexible and pragmatic system for tracking progress in land reform in Africa and design a strategic road map to realize the proposed tracking system.
Citation
"United Nations. Economic Commission for Africa; African Union Commission; African Development Bank (2012-06). Tracking progress in land policy formulation and implementation in Africa: background document. Addis Ababa:. © UN. ECA,. "
Related items
Showing items related by title, author, creator and subject.