Supporting Africa's response to climate change: building momentum for impactful climate action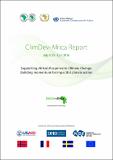 Published
2016
Author(s)/Corporate Author (s)
United Nations. Economic Commission for Africa;

The impact of the ClimDev-Africa's work during the reporting period has been significant as a result of strategic alignment and increased momentum across the core areas of the programme. New areas of strength are beginning to emerge as the Programme actively engages member states and the broader African society in collectively identifying challenges and developing effective solutions. The Programme will capitalize on existing strengths and form strategic partnerships with institutions whose areas of expertise go beyond the ClimDev-Africa but are complementary to addressing Africa's challenges on climate change and development. To realize this objective, ClimDev-Africa will provide robust and timely climate information and services to inform the decision and policy making processes, supported by strategic partnerships to meet the increasing demand for the Programme's services. This Report presents ACPC, CCDU and CDSF implementation achievements and challenges over the period from 16 July 2015 to 12 April 2016as well as emerging trends for the period; with specific emphasis on the two entities funded by the European Union namely, the ACPC and CCDU.
Citation
"United Nations. Economic Commission for Africa (2016). Supporting Africa's response to climate change: building momentum for impactful climate action. Addis Ababa:. © UN. ECA,. "
Related items
Showing items related by title, author, creator and subject.