African Social Development Index : measuring human exclusion for structural transformation report for Southern Africa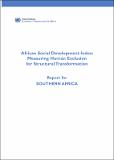 Published
2016-04
Author(s)/Corporate Author (s)
United Nations. Economic Commission for Africa;

The African Social Development Index (ASDI) is based on a request from African member States to ECA to develop a tool that reflects the African specific development challenges. It is built on the premise that social development should result in the improvement of human conditions. The ASDI focuses on six key dimensions of well-being that reflect the impact of policies on human exclusion over time. As a policy tool, the ASDI should help member States devise more inclusive social policies, and guide them in the implementation of Agenda 2063 and Agenda 2030 for Sustainable Development, which place a high premium on inclusiveness as a driver of sustainable and equitable development.
Citation
"United Nations. Economic Commission for Africa (2016-04). African Social Development Index : measuring human exclusion for structural transformation report for Southern Africa. Addis Ababa. © UN.ECA. "
Related items
Showing items related by title, author, creator and subject.