IPCC AR5 working group 2: a regional breakdown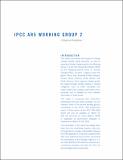 Date
2014-03
Author(s)/Corporate Author (s)
United Nations. Economic Commission for Africa;

This report summarizes the impacts of climate change already being observed, as well as projected climate change impacts from Working Group 2 of the 5th Assessment Report (AR5) by the Intergovernmental Panel on Climate Change (IPCC). It covers 7 regions across the globe: Africa, Asia, Australia & New Zealand, Europe, North America, Small Islands, and South America. Each regional chapter guides the reader through climate impacts in several categories, such as water availability and public health. Each category starts with a short summary and is followed by more detailed information in bullet points.
Référence
"United Nations. Economic Commission for Africa (2014-03). IPCC AR5 working group 2: a regional breakdown. Addis Ababa. © UN.ECA. "
Documents connexes
Afficher documents connexes par titre, auteur, créateur et sujet.