Diversification and sophistication in the process of economic transformation of the North African countries : |baide-memoire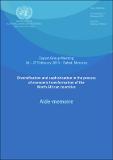 Published
2013-02
Author(s)/Corporate Author (s)
United Nations. Economic Commission for Africa. Subregional Office North Africa (SRO-NA);

North African countries could and need to rank among emerging economies through a significant transformation of their economies, which raises the issue of the nature of processes to guide these structural changes. There is the issue of the poor performance of growth in North Africa, facing unique challenges in the region and the relative slowness of economic and social development, attributed at least partially to the lack of diversification of these economies. Even if some of them are more diverse than others, the performance of most economies in the region is still too heavily dependent on commodity prices or weather conditions. North African economies are poorly diversified, and tend to specialize in sectors or products that face sluggish demand and low value added, and some export with little or no processing and therefore almost no value added.
Citation
"United Nations. Economic Commission for Africa. Subregional Office North Africa (SRO-NA) (2013-02). Diversification and sophistication in the process of economic transformation of the North African countries : |baide-memoire. UN. ECA Expert Group Meeting( 2013, Feb. 26-27 :Rabat, Morocco). Addis Ababa. © UN. ECA. http://hdl.handle.net/10855/22144"
Conference
UN. ECA Expert Group Meeting( 2013, Feb. 26-27 :Rabat, Morocco)
Collections
Related items
Showing items related by title, author, creator and subject.
Framework for a set of e-government core indicators /

United Nations. Economic Commission for Africa.; United Nations. Economic Commission for Latin America and the Caribbean; United Nations. Economic and Social Commission for Asia and the Pacific; United Nations. Economic and Social Commission for Western Asia; Statistical Office of the European Union; International Telecommunication Union; Organisation for Economic Co-operation and Development; United Nations Conference on Trade and Development

"United Nations. Economic Commission for Africa.; United Nations. Economic Commission for Latin America and the Caribbean; United Nations. Economic and Social Commission for Asia and the Pacific; United Nations. Economic and Social Commission for Western Asia; Statistical Office of the European Union; International Telecommunication Union; Organisation for Economic Co-operation and Development; United Nations Conference on Trade and Development (2012). Framework for a set of e-government core indicators /. Addis Ababa :. © UN. ECA,. http://hdl.handle.net/10855/25669"

Information society : regional dimensions Africa, Europe & North America, Latin America & Caribbean, Asia & Pacific, Western Asia.

United Nations. Economic Commission for Africa.; United Nations. Economic Commission for Latin America and the Caribbean; United Nations. Economic Commission for Latin America and the Caribbean; United Nations. Economic and Social Commission for Asia and the Pacific; United Nations. Economic and Social Commission for Western Asia

"United Nations. Economic Commission for Africa.; United Nations. Economic Commission for Latin America and the Caribbean; United Nations. Economic Commission for Latin America and the Caribbean; United Nations. Economic and Social Commission for Asia and the Pacific; United Nations. Economic and Social Commission for Western Asia (2003). Information society : regional dimensions Africa, Europe & North America, Latin America & Caribbean, Asia & Pacific, Western Asia.. World Summit on the Information Society (1st : 2003 : Geneva, Switzerland). Geneva :. © UN.ECA. http://hdl.handle.net/10855/41101"

Monitoring and evaluation programme of the implementation of the Dakar and Beijing Platforms for Action 2000-2004 task brief

United Nations. Economic and Social Council; United Nations. Economic Commission for Africa; United Nations. Economic Commission for Africa. African Centre for Women; United Nations. Economic Commission for Africa. African Centre for Gender and Development

"United Nations. Economic and Social Council; United Nations. Economic Commission for Africa; United Nations. Economic Commission for Africa. African Centre for Women; United Nations. Economic Commission for Africa. African Centre for Gender and Development (2001-11). Monitoring and evaluation programme of the implementation of the Dakar and Beijing Platforms for Action 2000-2004 task brief. UN. ECA Committee on Women and Development (CWD) Meeting (2001, novembre 5 - 8 : Addis Abeba, Ethiopie). Addis Ababa :. © UN. ECA,. http://hdl.handle.net/10855/14093"