Role of institutions in fiscal reform in structural adjustment programmes : a case study of the Ethiopian experience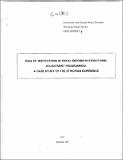 Published
1997-12
Author(s)/Corporate Author (s)
United Nations. Economic Commission for Africa. Economic and Social Policy Division;

This paper investigates the role of institutions in economic reform programme and looks at the conditions existing in Ethiopia. It is organized as follows: Part 2 covers fiscal issues in structural adjustment programme which is followed by part 3 that deals with general discussion of institutions, while part 4 deals with institutions involved in fiscal reform. Part 5 covers the economic reform programme of Ethiopia very briefly. This part is followed by a discussion of institutions in Ethiopia involved in the fiscal reform measures. Lastly a concluding remark is given.
Citation
"United Nations. Economic Commission for Africa. Economic and Social Policy Division (1997-12). Role of institutions in fiscal reform in structural adjustment programmes : a case study of the Ethiopian experience. Addis Ababa :. © UN. ECA,. http://hdl.handle.net/10855/21638"
Serial Title
Economic & Social Policy Division Working Paper Series
Related items
Showing items related by title, author, creator and subject.
Indice africain de développement social indice africain de développement social (IADS): mesure de l'exclusion humaine dans une optique de transformation structurelle

Nations Unies. Commission Economique pour l'Afrique. Division des politiques de développement social. Section de l'emploi et de la protection sociale; Nations Unies. Commission Economique pour l'Afrique. Division des politiques de développement social. Section de l'emploi et de la protection sociale

"Nations Unies. Commission Economique pour l'Afrique. Division des politiques de développement social. Section de l'emploi et de la protection sociale; Nations Unies. Commission Economique pour l'Afrique. Division des politiques de développement social. Section de l'emploi et de la protection sociale (2017-11). Indice africain de développement social indice africain de développement social (IADS): mesure de l'exclusion humaine dans une optique de transformation structurelle. Addis Abeba:. © NU. CEA,. "

Document d'information sur le sous-thème: parvenir à l'égalité des sexes et autonomiser les femmes et les filles

Nations Unies. Commission Economique pour l'Afrique; Nations Unies. Conseil Economique et Social; Nations Unies. Commission Economique pour l'Afrique; Nations Unies. Conseil Economique et Social

"Nations Unies. Commission Economique pour l'Afrique; Nations Unies. Conseil Economique et Social; Nations Unies. Commission Economique pour l'Afrique; Nations Unies. Conseil Economique et Social (2017-06). Document d'information sur le sous-thème: parvenir à l'égalité des sexes et autonomiser les femmes et les filles. NU. CEA Forum régional africain pour le développement durable(3ème: 2017, 17-19 mai: Addis Abeba, Ethiopie). Addis Abeba. © NU. CEA. "