Technical assistance activities of the International Monetary Fund in Africa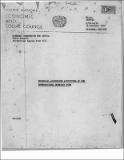 Published
1960-12
Author(s)/Corporate Author (s)
United Nations. Economic and Social Council;
United Nations. Economic Commission for Africa;

Technical assistance has been and continues to be made available by the fund to many member countries, including countries which are members of ECA, through the services of members of its staff who have paid numerous visits, at the invitation of member countries, to discuss with the officials of these countries current problems that fall within the funds area of competence. Technical assistance has also been given to, members who wished to have it in determining fundamental policy issues, or in building an efficient institutional and statistical framework within which policy can be made effective.
Citation
"United Nations. Economic and Social Council; United Nations. Economic Commission for Africa (1960-12). Technical assistance activities of the International Monetary Fund in Africa. UN. ECA(3rd session :1960 :Addis Ababa, Ethiopia). Addis Ababa :. © UN. ECA,. http://hdl.handle.net/10855/16030"
Conference
UN. ECA(3rd session :1960 :Addis Ababa, Ethiopia)
Related items
Showing items related by title, author, creator and subject.