Nigeria : mainstreaming trade policy into national development strategies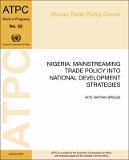 Published
2007-01
Author(s)/Corporate Author (s)
Briggs, Inye Nathan;
United Nations. Economic Commission for Africa. African Trade Policy Centre;

This paper is to examine the Nigerian trade policy and the trade policy formulation processes, and also to see how trade policy has been embedded in the mainstream of national development strategies.
Citation
"Briggs, Inye Nathan; United Nations. Economic Commission for Africa. African Trade Policy Centre (2007-01). Nigeria : mainstreaming trade policy into national development strategies. ATPC work in progress;; no. 52. no. 52, 45 p.. Addis Ababa :. © UN. ECA,. http://hdl.handle.net/10855/13378"
Serial Title
ATPC work in progress; no. 52
Related items
Showing items related by title, author, creator and subject.
Proposition de reforme du mecanisme intergouvernemental de la commission économique pour l'Afrique

Nations Unies. Commission Economique pour l'Afrique; Nations Unies. Conseil Economique et Social

"Nations Unies. Commission Economique pour l'Afrique; Nations Unies. Conseil Economique et Social (1997-04). Proposition de reforme du mecanisme intergouvernemental de la commission économique pour l'Afrique. NU. CEA Réunion de la Conférence des ministres (18ème session de la commission : 1997, mai 5 - 8 : Addis Abeba, Ethiopie); NU. CEA Réunion de la Conférence des Ministres (23ème : 1997, mai 5 - 8 : Addis Abeba, Ethiopie); NU. CEA Réunion du Comité Technique Préparatoire Plénier (23ème : 1997, avr. 28 - mai 02 : Addis Abeba, Ethiopie). Addis Abeba :. © NU. CEA,. http://hdl.handle.net/10855/3107"